University of Adelaide, salah satu dari 8 universitas terbaik di Australia, merupakan salah satu destinasi studi favorit bagi mahasiswa Indonesia. Tidak hanya kualitas riset dan pendidikan yang unggul serta fasilitas yang mendunia, masa studi di University of Adelaide sangat menyenangkan dan insightful oleh karena komunitas Adelaide yang terpelajar dan suportif.
Kota Adelaide pun merupakan salah satu kota yang menduduki 10 peringkat teratas sebagai "the most livable city in the world". Tahukah kamu, biaya hidup di Kota Adelaide terhitung 14% lebih rendah dibandingkan Kota Sydney?
Support bagi mahasiswa internasional pun beragam. Di tahun 2021 mendatang, University of Adelaide menawarkan berbagai beasiswa parsial bagi mahasiswa internasional yang ingin tergabung sebagai bagian dari universitas top 1% dunia ini. Bila kamu unggul di bidang akademik, University of Adelaide memberikan beasiswa parsial Global Citizens Scholarship sebesar 15% dan 30%. Beasiswa ini dapat secara otomatis kamu terima bersamaan dengan letter of offer. Ayo! Daftarkan minat kamu untuk program ini melalui https://bit.ly/adelaideAUG sekarang juga!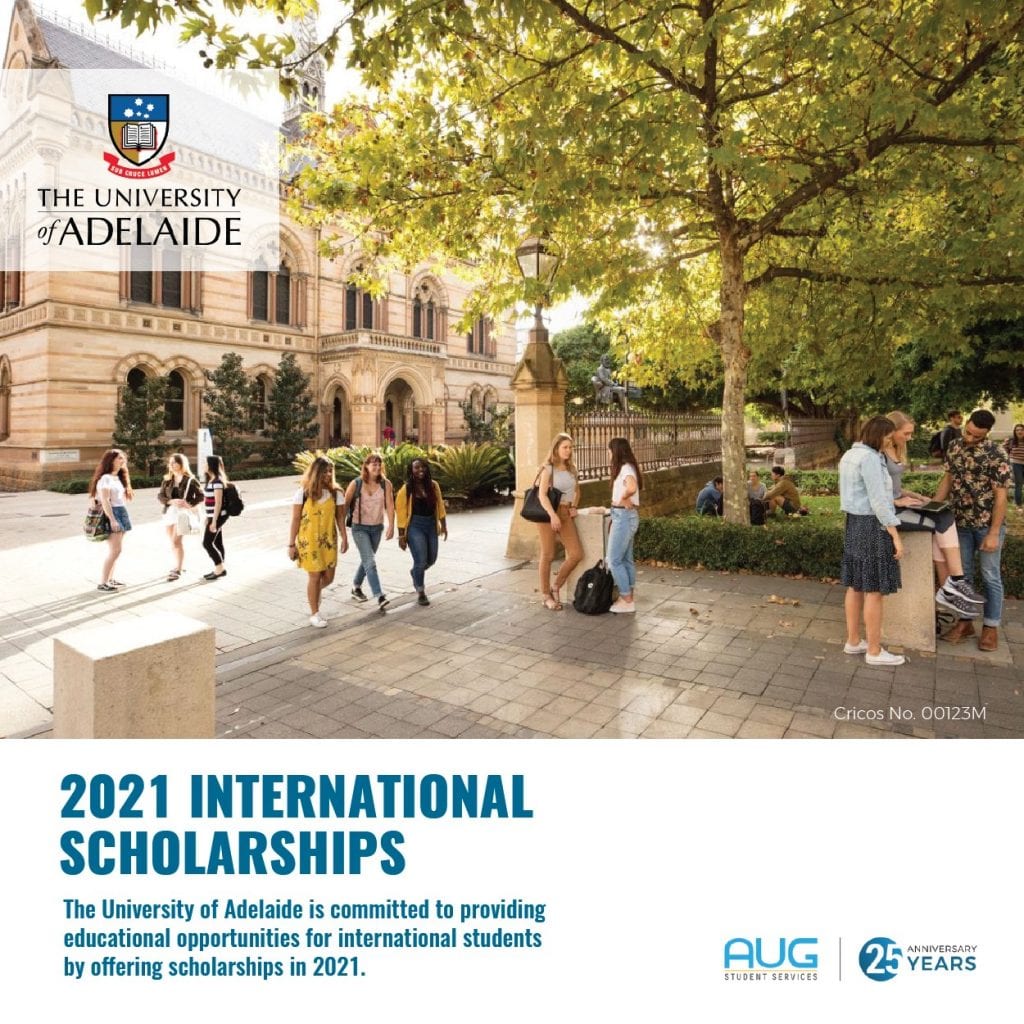 Selain support secara finansial, setibanya di Adelaide, mahasiswa internasional berkesempatan mengikuti International Student Welcome program. Program ini khusus diadakan sebagai bagian dari orientasi mahasiswa baru. Kamu bisa berpartisipasi dalam berbagai sesi informasi serta serangkaian kegiatan sosial yang akan membantu kamu menemukan zona nyaman sebagai bagian dari University of Adelaide.
Program yang ada di University of Adelaide pun sangat beragam. Ada lebih dari 400 pilihan program dari 5 fakultas yang bisa kamu pilih. Jurusan yang menarik dengan kurikulum unik dan terintegrasi bisa kamu temui; seperti accounting & coorporate finance, psychology dan criminology, innovation & entrepreneurship, music, PPE, dan banyak lagi.
Mau informasi lebih lengkap dan ingin tahu cara pendaftaran ke University of Adelaide?
Kunjungi kami secara virtual:
https://bit.ly/AUGindo-virtual
⏰ 9:00AM-5:00PM | 🔖 Senin-Jumat
⏰ 9:00AM-1:00PM | 🔖 Sabtu
Atau hubungi konselor kami melalui WhatsApp
AUG Jakarta            | 0817 6864 284
AUG Surabaya         | 0817 6865 284
AUG Bandung         | 0817 6867 284