Pengalaman Ibadah Puasa di Inggris
Menjalankan ibadah Puasa Ramadhan adalah kewajiban bagi seluruh umat Muslim di dunia. Termasuk pelajar Muslim yang sedang melaksanakan kuliah atau belajar di luar negeri. Disini kita mau berbagi pengalaman dari salah satu student AUG Student Services yang pernah belajar di Inggris dan saat sudah Kembali ke Indonesia.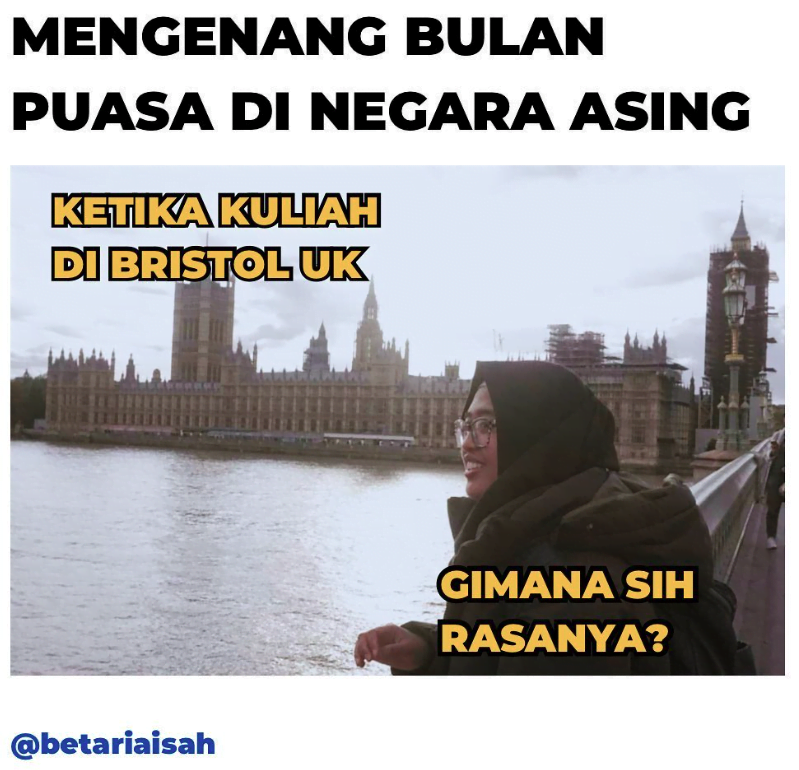 Betari Aisah, lulus dari University of Bristol tahun 2020 dengan gelar Master of Science in Social Science Research Methods (Sociology) akan berbagi sedikit pengalamn dan tips menjalani ibadah Puasa di Inggris. Yuk kita simak;
Waktu Berbuka, Tarawih dan Sahur
Surprise pertama, buka puasanya baru jam malam. Waktu saya disana kebetulan sedang musim panas. Jadi, jam 8 malam aja masih terang benderang dan mulai terbenam sekitar jam 10 malam. Kalua ditotal puasa sekitar kurang-lebih 20 jam.
Jadwal sholat Tarawih pun jadi malam banget karena waktu berbuka puasa yang sudah malam.
Nah, untuk subuhnya jadi terasa cepat. Misal baru selesai buka puasa, dan sholat Tarawih tiba-tiba selang beberapa saat sudah harus sholat subuh, karena musim panas jadi terbitnya matahari juga semakin cepat.
Kalau untuk musim dingin, kondisi berbeda. Kondisi berpuasa di musim dingin akan mirip seperti di Indonesia, tetapi perlu diingat kondisi yang dingin juga akan membuat kita terkadang membuat kita cepat haus atau cepat lapar.
Persiapan sebelum Puasa
Persiapan ini adalah terutama untuk persiapan diri sendiri (mental), kita biasanya berbuka puasa di jam 6 nah di Inggris harus berbuka di jam 10 malam, lalu tarawih dan disusul untuk sahur. Kemandirian juga harus dilatih, mempersiapkan makan untuk berbuka dan makan sahur Ketika tidak ada orangtua yang biasanya sudah disiapkan. Oia, di UK tidak ada kentongan yang bakal bangunin kita untuk sahur yah, hehehe.
Melawan Kesepian
Mulai untuk cari teman yang juga Muslim, atau kamu bisa dating ke Muslim centre di kampus di kota kamu tinggal. Selain bisa dapat jadwal Imsakiyah yang tepat, terkadang mereka juga mengadakan buka puasa Bersama dan sholat Tarawih berjamaah loh, jadi bisa ngobatin kesepian kita selama puasa di rantau.
Chat sekarang dan Konsultasikan minat studi kamu di luar negeri bersama AUG Student Services!