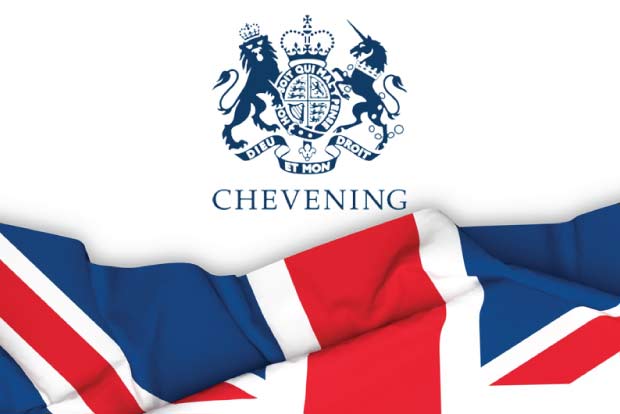 Fully funded Postgraduate studies in the United Kingdom (UK), including paid flights, accommodation, and a monthly allowance, sounds like a dream come true?
Last year, 39 Malaysian high achievers made their dreams come true by being awarded the prestigious Chevening Scholarship, joining other great Malaysians such as the 12th Inspector-General of Police, Tan Sri Abdul Hamid Bador and former Managing Director of Khazanah Nasional, Tan Sri Azman Mokhtar.
Understanding the Chevening Scholarship
What is the Chevening Scholarship?
The Chevening Scholarship is a highly coveted scholarship program funded by the UK government for outstanding individuals to have access to a fully-funded postgraduate study in the UK.
Who is Chevening?
Chevening is the UK government's international scholarships and fellowships programme.
What are the Chevening's objectives?
Foreign, Commonwealth and Development Office (FCDO) and partner organisations fund students' education to showcase the positive impact towards the student's home country, as a result of the UK education system.
Who is eligible?
Malaysians & other Chevening-eligible countries
Individuals with at least 2 years of working experience
Individuals with a Bachelor's degree (with at least upper second class)
Who should apply?
Students who meet the above requirements and wish to pursue their UK Postgraduate Taught course studies for free!
What is the Chevening Scholarship coverage?
Payment of full tuition fees
Economy flight ticket (round-trip)
Visa
Arrival & travel top-up allowance
A contribution of up to £75 for TB testing (mandatory testing)
A monthly living allowance (stipend)
What are the benefits other than free education?
Opportunities to engage with UK diplomatic mission in country on bilateral policy issues
Professional Advancement and learning opportunities
Exclusive networking events
Application Timeline
* dates might be adjusted nearing deadlines
2 August 2023: Applications are open
1 November 2023: Applications are closed
2 November 2023: Applications are sifted against eligibility criteria
Early to Mid February 2024: Applicants are shortlisted for interviews
27 February to 28 April 2024: Interviews
June 2024 Onwards: Results!
13 July 2024: Deadline to receive and submit 1 unconditional UK university offer
September / October 2024: Your Postgraduate studies commence!
Application Requirements
Curriculum Vitae (CV)
Degree Certificate and Degree Transcript (at least upper-second class)
Minimum one unconditional UK university offer
2 reference letters
Apply with AUG
AUG has been established since 1995, representing over 700+ institutions across the world. We provide free counselling and application services to UK universities, and would be elated to assist you on your journey to be a Chevening Scholar.
Alternatively if you would like to know more about Chevening Scholarship, pre-register for our exclusive Chevening Scholarship Information Session hosted by the Chevening Scholarships and Partnerships Officer.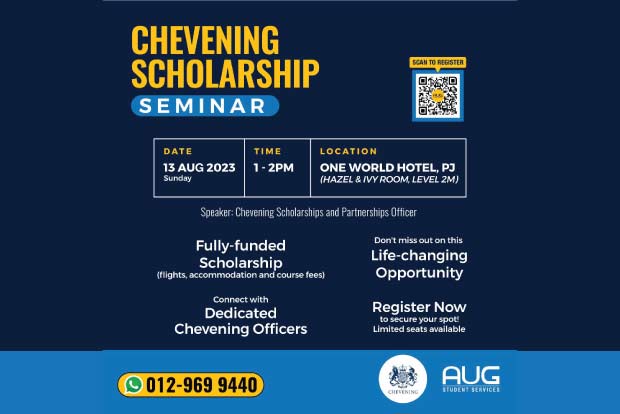 Event Details
Date: 13 August 2023
Time: 1:00 PM – 2:00 PM
Venue: One World Hotel, PJ (Hazel & Ivy Room, Level 2M, City Centre, First Avenue, Lebuh Bandar Utama, Bandar Utama, 47800 Petaling Jaya, Selangor, Malaysia)
Source