Applying to US Universities

First thing, the most important question you need to ask yourself is "Why?" Why do you want to study in America? How much are you able and willing to spend to study in the United States? Having a strong "why" will give you confidence in taking the next step, which is the admissions process.
Here are a few things you need to prepare for your application to college or university in the U.S.
Academic Transcripts
Whether you've decided to study in the USA after completing undergraduate studies abroad, or you're looking to begin your undergraduate degree in the United States, providing a transcript of your education will help universities understand the education you have received. 
An official institution's administrative office must provide transcripts and typically an official copy — not a photocopy. Transcripts that do not meet the requirements to be considered "official" will not be accepted by education institutions in the USA.
English Proficiency Exams
English proficiency tests are required for students from Indonesia or other non-English speaking countries. Your English ability could signify your overall ability to study in the USA, specifically how you can keep up with the demands of full English courses. You can meet the requirements for English proficiency by passing one of the following English exams. 
IELTS: International English Language Testing System

PTE Academic: Pearson Test of English

TOEFL: Test of English as a Foreign Language
It is recommended that you take the exam 6–12 months before your application deadline so you will have the opportunity to retake the exam as many times as you want (with 12 days between exams). The exam will cover writing, reading, speaking, and listening in English. 
Standardized Testing
Standardized tests will assess your ability across multiple subjects, including Mathematics, Writing, Reading, and Science. Although the test scores aren't the only factor for your admission into U.S. colleges or universities, they can certainly boost your appeal as a candidate. There are SAT and ACT. Both tests are viewed the same by universities so picking the right test is determined by your preference.
Scholastic Aptitude Test (SAT)
The SAT is the most commonly used standardized test for students applying to college or university in the U.S. This test is not mandatory, but a good SAT score can strengthen your chances to get accepted. 
The SAT covers four sections including an optional essay section, these include Reading, Writing, Math (without a calculator), and Math (with a calculator). The test is scored on a scale of 400 to 1600, combining Math scores and Reading/Writing scores (the essay has a separate score). Your math score will account for half of your total score on the SAT — so if math is your strong suit, the SAT is the test for you.  
American College Test (ACT)
The ACT is largely regarded as being more accessible for international students between the two standardized tests. Key differences between the ACT and SAT include structure and time. As there is a lot of reading on the ACT. If you are a fast reader, you will have a generally easier time taking the ACT. 
The ACT includes English, Math, Reading, Science, and an optional Essay section. There are a few key differences between the ACT and SAT. Although the math section on the ACT may be a little more advanced, its effect on your overall score is less significant than the SAT. Another key difference is that the ACT includes a science section, something the SAT does not have. 
Personal Statements 
Your personal statement is your opportunity to show the application committee why you have decided to study in the USA, the future you see for yourself, and the steps you have taken to pursue this dream. A good statement of purpose will convey the experiences that have shaped who you are, the goals you have, and the beliefs you carry. Depending on whether you're applying for an undergraduate or graduate education, the requirements for your personal statement may differ. However, there are some tips you can carry over regardless of what degree you're pursuing.
The more you can stand out, the better your application will look. Use your experiences and create a compelling story that shows the reader how you've grown and shaped your decision to study in the USA.

Revise, revise, revise!

It's a good habit to re-read, revise, and even have another peer go over your writing before turning it in.

Most universities have a prompt that they require you to follow as you write your personal statement. Try to bring your story to life within the boundaries of the prompt. If it doesn't add significance to the overall story, it's best not to include it.
Proof of Finances
There are many costs associated with studying in the USA from tuition to living expenses and more. It can be difficult to manage your life at an American university without sufficient financial resources. Proving that you can financially support yourself and fund your education will be an important step in gaining eligibility to receive an I-20 Form, and ultimately to study in the USA. There are a few ways to show proof of financial ability, which are:
Personal Bank Statements 

Bank Statement of Supporting Family Member 

Proof of Sponsorship or Government Funding 

Financial Aid or Scholarship Letters

Employer Letter

 
A designated school official will review your financial documents and determine if you are eligible to receive an I-20 form. Obtaining this form will prove your eligibility to study in the USA and allow you to move on to the next step of your admissions process — getting your student visa.
Student Visa
If you have met all the requirements to this point and have been accepted into an accredited university, you will be required to obtain a student visa to study in America. There are three types of student visas. Your course of study and the type of school you plan to attend determine whether you need an F visa or an M visa. Each has a slightly different purpose and provides different capabilities for your study abroad.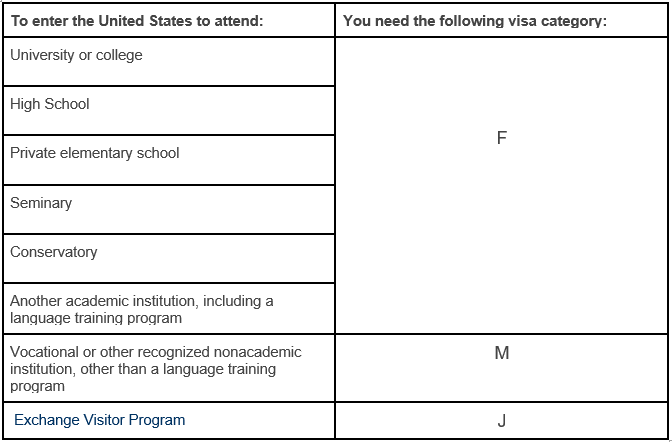 Obtaining your student visa requires you to go through several steps. These include (but are not limited to): 
Pay the Student and Exchange Visitor Information System (SEVIS) fee
Complete the DS-160 online visa application form
Provide photo I.D.
Pay your visa application fee 
Complete a student visa interview at a U.S. embassy or consulate 
Letter of Recommendation
Not all universities require letters of recommendation, although many do. To make the most of your letter of recommendation, it's important to choose someone who has seen what you're capable of relative to the field you're applying to, in a work capacity, or even in your growth as a student.
Research Proposal
Research proposals are often required for admission into graduate research studies. When universities ask for research proposals, they don't expect you to have all the answers. Hopefully, your goals are in line with your university and the direction it wants to go. You can find guidance on how to write a good research proposal here.
—
Now, the good news is you don't have to go through your application to study in the USA alone. Reach out to AUG team and we'll help you every step of the way! 
Source: