Scape
Scape specialises in developing and operating purpose-built student accommodation that provides so much more than a place to stay. A people-first culture shapes their vibrant, welcoming and enriching student communities, specifically designed for today's student preferences.
This culture creates opportunities for their employees to build their skills, explore their potential and, in turn, ensure we deliver against high expectations. With a passion for excellence and a can-do attitude, our team is made of so much more, striving every day to support our residents through their time with Scape.
MELBOURNE, VIC
Location:
SCAPE LA TROBE
SCAPE PEEL
SCAPE CARLTON
SCAPE FRANKLIN
SCAPE LINCOLN COLLEGE
SCAPE SWANSTON
SCAPE BERKELEY 1
SCAPE BERKELEY 2
SCAPE MELBOURNE CENTRAL
SCAPE QUEENSBERRY
As their team like to say, living at Scape is 'like a hug from mum!'. With some of the best cafes, parks and shops in the city all within walking distance, there's nothing quite like living at Scape.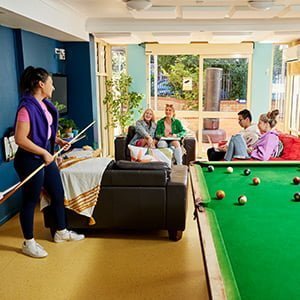 SYDNEY, NSW
Location:
SCAPE ABERCROMBIE
SCAPE DARLINGTON
SCAPE REDFERN
SCAPE QUAY
SCAPE CLEVELAND
SCAPE DARLING HOUSE
SCAPE DARLING SQUARE
SCAPE GLEBE
SCAPE SYDNEY CENTRAL
SCAPE AT UNIVERSITY OF SYDNEY
BOUNDARY x SCAPE
BROADWAY x SCAPE
MOUNTAIN x SCAPE
Take in the fresh air at Sydney – Scape will be sure to give you lasting friendships with students from around the world.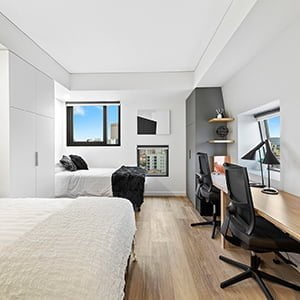 ADELAIDE, SA
Location:
SCAPE WAYMOUTH
SCAPE ADELAIDE CENTRAL (UNISA)
SCAPE AT UNIVERSITY OF ADELAIDE
You'll feel at home in this close-knit community, allowing you to strive during your studies in Adelaide. Taste your way through the vibrant local restaurant scene, take a walk to university or jump on a tram to visit the iconic Adelaide Central Market, a charming hub full of international cuisines and fresh produce.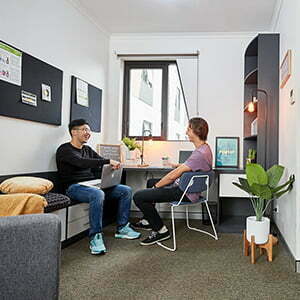 BRISBANE, QLD
Location:
SCAPE MERIVALE
SCAPE REGENT
SCAPE ST LUCIA
SCAPE SOUTH BANK
SCAPE TOOWONG
SCAPE TRIBUNE
Community spirit is what you'll find at Scape South Bank. With its beautiful leafy courtyard, you will enjoy the city, parkland and South Bank beach all from the doorstep of the property. Located in Brisbane's newest student hub, you'll get the best of Brisbane living here.
Contact your nearest AUG office now, to book a free tour with us.